Web-Seminar: Modelling and Dynamic Simulation as a Design and Optimisation Tool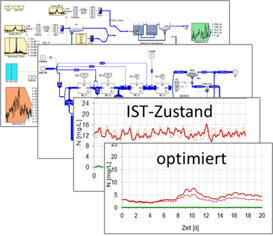 On May 18, 2021, an engaging webinar on modelling was presented by Dr.-Ing. Benjamin Vogel.
Dynamic simulations of wastewater treatment plants enable representation of various wastewater parameters over time and a comprehensive analysis of the complex relationships. Compared to conventional, static design approaches, this promotes a better understanding of plants and processes, and ensures targeted and economic planning as well as optimised operation of wastewater treatment plants.
The computational models used for this purpose are compatible with DWA-A 131 (2016) and correspond to state-of-the-art technology.
In this seminar, the basics of modelling were presented, where dynamic simulation offers advantages over static design approaches. Furthermore, concrete examples were used to demonstrate the contribution of this tool to planning or optimisation projects. To view the recording of the webinar, feel free to contact us at: web-seminar@aquawaste.de.